This
store
is the kinda place, where you can't stop looking through. The very same thing happened with me, when I stumbled across this place. The designs are just mesmerizing and you can see the impeccable detailing.
Its truly hard to pick a favourite.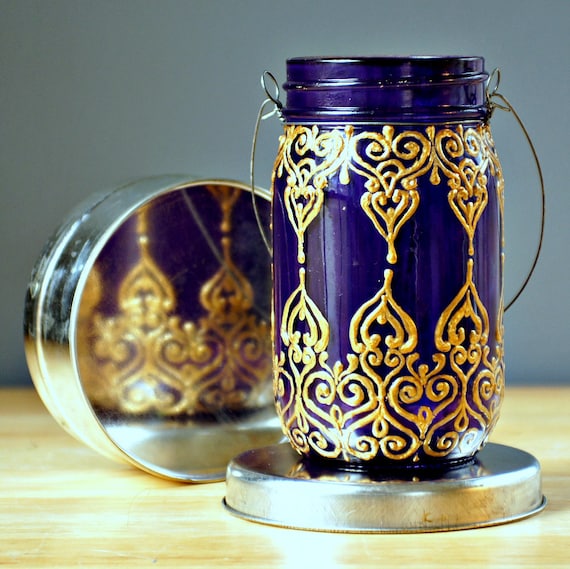 So lets hear from Vanessa, what it takes to have such a lovely store!
- What is your favourite part of creating exquisite home decor products?
V: - My favorite part of my work is coming up with new designs and creating these new jars, whether these are custom orders or just new ideas.
- Have you always wanted to do that?
V: - I haven't necessarily always wanted to paint glass jars specifically, but I have always been artistically inclined.. I have a background in Product Design, and I often said that my dream job, if money were no object, would be a job as an artist or painter. Through Etsy, I have been able to achieve this in a real way, even with money being an "object". I feel so blessed to be able to help support my family and have my dream job in this way.
- Which is your personal favourite of them?
V: - I don't have a specific favorite design, but I enjoy making newer designs that I have listed. It is fulfilling to see a design become popular, and always surprising. I honestly couldn't predict which design will become the most popular out of a group of new listings. Some designs are sleepers, they will hang out in my Etsy store for a long while without many sales, and then they will get hot. Sometimes I can figure out how this happens, link it back to a front page Etsy spot, a feature in a blog, or a great treasury that includes the listing; but sometimes it is a mystery. I would probably get very bored if I was painting the same 3 or 4 designs all the time, but this is never an issue with my store.. I am always painting different style jars or creating new designs for custom requests. I guess my favorite type of order is when a customer gives me some guidelines such as glass color, detail color, or design style (ex: henna patterns, geometric styles, etc); but then asks me to come up with the designs for the jars. I always come up with new designs when this happens. I love this freedom, and I love to reward customers who allow me this freedom with first access to new designs.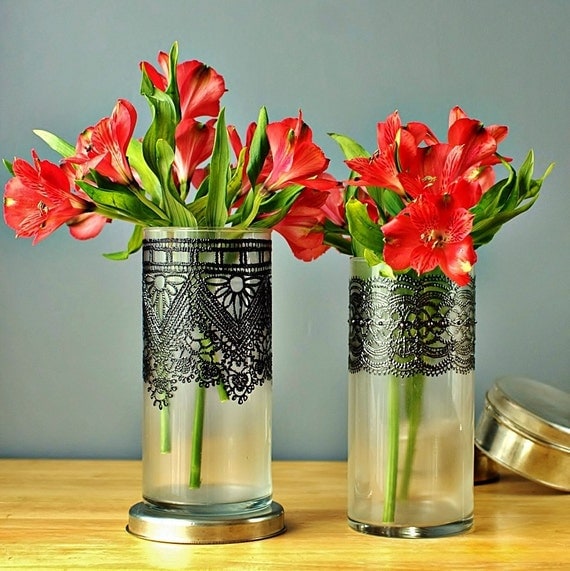 - How does your normal working day looks like?
V: - I am a definite night owl, so I have a rather unorthodox work day. I wake up my daughter Chloe for school at 8 am and ensure that she is dressed, fed, and ready for school- my darling fiance Nick knows that I am very bad at mornings, so he drives her to school while I take a little nap on the couch. Depending on the night before, I sleep anywhere between 30 min to a couple of hours. Once I really wake up, I start my work day. I generally start the day preparing orders that are ready to ship. The shipping prep process ( for me this involves putting handles on the jars, individually boxing them, then packing them in their shipping boxes) is pretty time consuming, which is definitely not my favorite. I would rather be painting all the time :-) If orders need to go out that day, they are rushed out to either the post office or other shipping services,depending on individual package needs. Nick works from home as well, and he often makes these runs for me (see? saint!) . Short break for child retrieval/ homework/after school activities, then I am back to work painting jars. I do most of my actual painting in this time, and tend to work until around 2 or 3 in the morning.
- What is your most memorable moment, when opening a shop on Etsy?

V: - My most memorable Etsy moment was probably when one of my lanterns was featured in an Etsy
"Get the Look Decor"
article. I opened my Etsy shop in Oct 2011, and this article in Jan 2012 really increased my shop views and changed my whole business dynamic. I love how the Etsy format has allowed me to grow a business with lots of hard work, creativity, and a fresh idea, but not a big budget for advertising. It was an overwhelming and amazing day for me when this article first came out. I spent the whole day answering messages and creating custom orders! I could not have reached so many people without opportunities like this. I am still a bit shocked and amazed at the way my shop has grown, it is so fulfilling to have so many customers who like my artwork, enough to spend their hard earned money at my shop!
Thank you so much Vanessa for a lovely conversation!
All images belong to LITdecor