Looking for something special? something made with love? something just so adorable that it is so hard to resist?.....then you have to head out to
PotteryLodge
Beautiful ceramic-ware, oh so pretty designs and a very sweet owner!
So lets hear it from Casi...
I grew up around pottery. My great-grandmother and grandmother both enjoyed cast slipping and had a little shed in the backyard where they kept their molds and kiln. Life happened and the shed was locked up for about 10 years. I've always been into arts and crafts and one day I called up my grandmother and asked if she would teach me how to cast molds. She was over the moon excited and that's how it all started!! I researched new techniques, explored clay building, which my grandmother had never learned herself. I started playing with textures, shapes, sizes, and even making my own molds.

All of my planters are hand built starting with a ball of red clay, carefully and patiently formed then left to dry for several days. Once the clay is moisture free I fire them in my kiln for 4 hours. After firing they have to remain in the kiln for an additional 12 hours. The pieces are then glazed which can take hours depending on the design. I then kiln fired again for 4 hours, cooling for 12. Its a long process for each piece whether made with casting slip or slab clay.

My lace ceramics are made using white clay. I roll out a small slab on canvas and then take one of my great grandmothers vintage doily and press it into the clay. I then take a shaped cutter, heart, circle, or whatever shape I'm making and press that into the clay to get the shape I want. For my heart jewelry dishes, after cutting out about 5-10 of them I will lay them on wood to dry. Every hour or so I will go and slightly lift up the edges to get a curved look. It takes about 5 days for them to dry enough before firing them. The firing process is the same as with all of my pottery. 4 hours to fire, 12 hours to cool, glaze, fire again.

My work is very personal to me. My kiln is only 3 ft tall so my production time is slow as I can only fit a small batch of pottery in with each firing. Pieces can't touch while firing or else they will stick to each other, so I only can make a small amount each time, but it gives me more time to work with each piece and discover new techniques. I'm a glaze junkie and absolutely love combining glazes and getting to see what will happen when this glaze and this glaze will do when applied together. It's like Christmas morning every time I open my kiln!
I know that it may be a little too long....but I have to share it...its so sweet and inspiring :)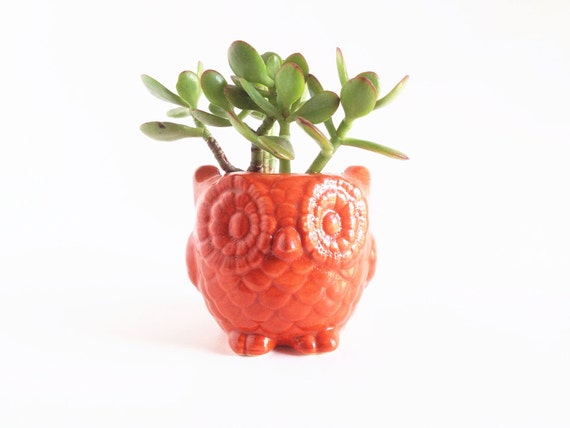 - What is your favourite part of creating inspiring ceramic ware?
C: I think my favorite part is glazing pieces! It's really fun to experiment with glazes and how they interact with each other.
- Have you always wanted to do that?
C: Honestly, not really. I've always been into the arts, but it wasn't until I found out about etsy a few years ago that I wanted to start experimenting with clay. I saw etsy and all the beautiful shops and it really inspired me to branch out and gave me the confidence to start selling my ceramics.
- Which is your personal favourite of them?
C: My fox planters! I love them! They are so stinking cute and I absolutely love the way they look. My lace ceramics are also my favorites as well. I love getting to show my great grandmother my lace ceramics and she loves that its her lace that in pressed into them. Its very rewarding.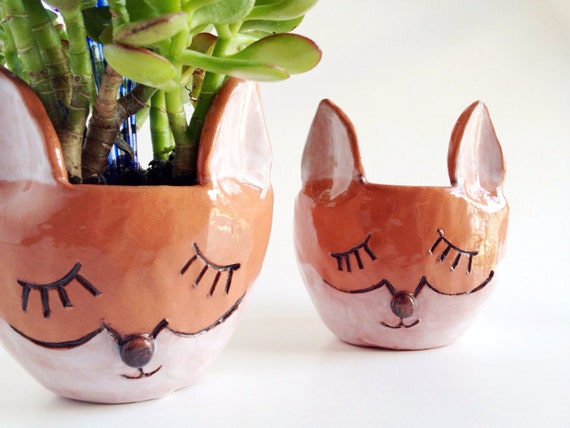 - How does your normal working day looks like?

C: A normal work day starts with checking emails and messages, then packaging orders to shipping. I then spend the rest of the day getting my hands muddy working on existing orders and creating new pieces. I'm consistently working, many times I'm up at 1am just in the zone creating. I have a whole notebook full of ideas so I always have something I'm working on.
- What is your most memorable moment, when opening a shop on Etsy?
C: Probably my first international sell, which was to the U.K. Since then I've sold to Austria, Canada, Norway, Australia, Singapore, Argentina and more! It's just so neat to know my work is being enjoyed on a global level.
All images belong to PotteryLodge